Boasting one of the most modern set ups in the entire continent, Valencia blends seamlessly a millenary tradition with a deeply-rooted medieval heritage and the most futuristic environment available in the country. From the ecstatic Ciudad de las Artes y las Ciencias to the Fallas and the cathedral, Valencia is altogether one of a kind.
Spanish courses
Valencia City Guide
Located on the east Mediterranean coast of the Iberian Peninsula, Valencia is Spain's third largest city after Madrid and Barcelona and has quickly become one of the countries most exciting. From traditional paella to its world-famous Las fallas festival, Valencia has plenty to offer in terms of festivities and tradition making it one of the most interesting and important cities in Spain.
Valencia is one of the most beautiful cities in the country; with its exuberant variety of perfectly kept flora and lush gardens as well as breathtaking architecture and visitor attractions. From the Museum of Fine Arts to the Botanic Gardens, the city has something for everyone and rest assured you won't be disappointed.
This travel guide to Valencia is the perfect companion to planning your trip to discover a city that you will never forget.
Culture & the Arts
With artsy film houses, an incredible panorama of Spanish architecture and some of Spain's most famously fiery festivals, Valencia has a cultural scene that most cities can only dream about.
Read more
Trips from Valencia
Due to its great location and unbeatable travel and transportation options, Valencia serves as a great starting point for a diverse and endless arrayof enticing day-trips. Read more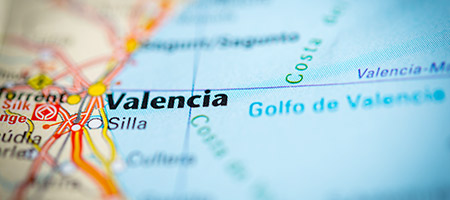 About Valencia intricate yet compelling history.
Learn here
Sunny beach town, culinary pioneer, sophisticated metropolis, cultural trailblazer, historical hotbed, architecural mosaic, friendly home away from home... these are just some of the ingredients that mix together to create the Valencia we know and love.
How to Use this Guide
We are here to give you all the details for your trip to Valencia, from the stuff that you need to know before leaving home in Planning Your Trip to the best things to do once you're here in Out & About.
We've also developed sections like History, to give you some background on the city's past, and a Culture section that collects the most attractive leisure and cultural activities happening in town.