El Carmen in Valencia, Spain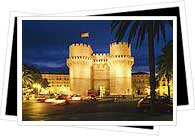 Location:
The picturesque nooks and crannies of El Carmen are squeezed in between the street Calle de Caballeros and the Turia riverbed.
In a nutshell:
The honey-colored buildings and tight alleyways of El Carmen compose not only the city's cultural and historical past, but have also experienced a major rebirth as the city's most "hip" area to hang out. Hoards of young people and lively bars contrast old stone bridges and antique door-knockers- check out the ones on Calle de Caballeros, where they're set up high for men passing through on horseback back in the day- resulting in a unique vibe that you don't want to miss.
Learn more!