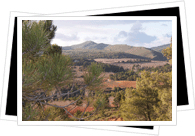 Requena is a small and idyllic getaway only a 40 minute drive from Valencia city. Located in the westernmost part of the Valencia province, Requena is the biggest city in the interior sector of the province and is the perfect spot for exploring inland Spain.
Known for its wineries, you should not miss the chance to visit one of Requena's numerous bodegas and do some serious winetasting. Wine production forms the main basis for the town's economy and the Museo del Vino proudly displays the history of wine in the region.
Wine lovers and party animals alike should not miss the Festival de la Vendimia (every August/September). This traditional fiesta has its origins in asking the skies for water to bring a good grape harvest. Today, the celebrations also involve a massive waterfight, elaborate parades and a large amount of wine and fruit tasting. Not to be missed!
And when the celebrations are over you can enjoy the medieval city center by wandering around the old quarter and the streets surrounding the Plaza de la Villa.