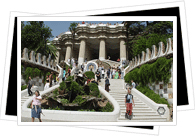 Introduction
Barcelona was founded in the 1st century AD and ever since has gained itself a reputation for being a first rate city which is pioneering the way with its finances, media, entertainment and arts. Just like Madrid it has a great sports scene, cheering on its top rated teams and having hosted the 1992 Olympic Games.
What to check out
Barcelona has one of the best nightlife scenes in Spain and the day time activities keep up with the action. First we shall run through the museums and cultural sights that are worthwhile. La Sagrada Familia, designed by avant-garde architect Antoni Gaudi, is certainly one of the most impressive example of Roman Catholic architecture and it hasnt even been completed yet! Set to be completed in 2026 it currently has tours of parts of the building and confidently displays a stunning design with 18 huge towers. With over 2 million visitors last year it is one of the most visited sights in Spain. Like many people have you wondered what it would be like to sit in the same seats as your favourite football stars (perhaps even got dressed up in the full kit? It's ok to admit). Well now you get the chance to do so with the tour of Camp Nou, Barcelona's prestigious football stadium- you can't deny yourself a trip! Just make sure you aren't wearing one of the rival teams' shirts!
Another unmissable opportunity is the Magic Fountains of Montjuic. The reviews alone have all come out with five stars. It is for all age ranges so don't be afraid to bring the kids for an amazing night out. The set up is basically a 20-minute water fountain show of a spectrum of colours that is on every half hour starting from 9pm. Free for entry as its an outdoor event it brings in the crowds by hundreds if not thousands.
Prepare the credit cards!
For all the shopaholics out there look away now, here's the run down of the best markets to head go to for a deal or two. First is the Fira de Nautumismo, a flea market where the word generic is thrown out the window. It brings with it market stalls where everything is just piled out onto the table waiting for you to sift through the duds for a prime piece of barginers gold! The Sant Antoni market is another great one to check out. Here you can peruse the host of fresh food used by some of the top chefs around the area to make the local specialties..