Trip from Valencia, Spain to La Albufera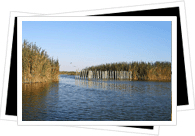 La Albufera is a wonderful escape from the bustling city of Valencia and a great place to soak up some beautiful landscapes and be at one with nature.
La Albufera Natural Park is easily reachable by bus from the center of Valencia - the trip itself offers some lovely views and is a very enjoyable start to your escape from the city.
La Albufera was named a wetland of international importance in 1990 to ensure that what remains of the area is protected. This is exceedingly important given that the lagoon was once ten times bigger than what you will find today.
The park's centerpiece is a dazzling lagoon which makes a nice spot to chill and watch nature at work. Especially for bird lovers, since over two hundred and fifty species of migratory birds descend on the area each year. The area is in fact one of special protection for birds and the perfect spot to do some birdspotting.