Beaches in Valencia, Spain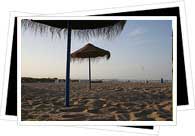 The gentle rush of the waves, the sand between your toes, the warm Mediterranean sunshine... there are few things more delightful then claiming a patch of sand and settling in for a leisurely day at the beach.
If you're staying in Valencia, your beach options are virtually unlimited. Stretching along the eastern periphery of the city and just minutes from the center you'll find Valencia's two urban beaches, Las Arenas and La Malvarrosa, both of which are easily reached via city bus, metro, bike, or a pleasant stroll. If you want to venture a little further, hop on a bus and head north to the beaches of Alboraya or south to the beaches of Sueca, Cullera and Gandia.
With pristine sand and clear waters, all of Valencia's beaches have earned Europe's nod of approval in the form of the European Blue Flag, a distinction bestowed upon Europe's best beaches. To earn the European Blue Flag, a given beach has to meet a series of conditions which cover services, conditions and the environment. Plus, for extra fun in the sun there are areas for biking and jogging, a volleyball net, children's play zones and even an area for beach rugby!
One of the most pleasant aspects of the Valencia beach scene is its "Paseo Marítimo," a palm-lined, garden-filled, tiled promenade running along from Valencia's port northwards to Alboraya. The promenade, which continues for multiple kilometers, is one of the most popular zones of the city to stroll, jog, rollerblade and, in general, just "hang out." Plus, just across the promenade from the Valencia beach of your choice and with terraces looking out over the glimmering Mediterranean water are some of Valencia's best restaurants for paella, fresh seafood and other local food specialties.
Valencia Beaches in the City:
Valencia Beaches to the North:
Valencia Beaches to the South:
El Pinedo
El Saler
La Devesa
El Recatí