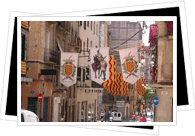 Introduction
Tarragona is rich with Roman history and its culture still preserves this. The city was founded in the 5th century and till this day you can see the examples of Cyclopean walls (huge boulders fixed together). If that doesn't sound right for you then you can appreciate the smaller pebbles on one of the beautiful beaches surrounding Tarragona.
Where do you want to go?
On your trip from Valencia to Tarragona if you want to get into the depths of the Roman history then make sure you head down to Tarragona National Archaeological Museum. It is one of the oldest around, having been built in the 19th century, and is home to 150 years of collecting Roman remains from the surrounding area. The Tarragona Cathedral is a stunning example of Gothic design, though it retains some Romanesque influences. It was constructed in the 12th century and consecrated in 1331.
Though there's no doubt about it, the Romans aren't exactly modern and if thats where you want to find yourself then look no further than the Museum of Modern Art. It provides you with exquisite artists to endulge your passion, such as Santiago Costa and Jose Nogue.
Time to shop
The thought of souvenirs looming over your head or just a bit of spare cash you want to splurge on yourself? No problem, as Tarragona will satisfy your need to shop until you drop. Depending on your style you actually have a contrasting selection of places to go. First on the list is the Parc Central, which is basically a huge shopping mall. With a multitude of over 100 shops to choose from your only worry will be how to carry all the bags back! Rambla Nova is host to some of the best shopping available in Tarragona and has a bohemian vibe to it thanks to its boutique clothing stores and (warning shopaholics- look way) shoe stores.