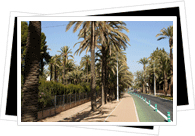 The Sights
One of the main events in Elche is the Misteri D'elx, which is a two part medieval dramatisation to pay tribute to the assumption of Mary. It's also worth giving the Lady of Elche a second glance. This great example of Iberian art is believed to have been created in 4th century BC and has strong influences from the Hellenistic period.
Museums
There isn't a huge amount of things to see in regards to actual museums, but there are a few that are worth mentioning that directly relate to Elche's culture. First on the list is the Archaeological museum, located in the palace known as Alcasser de la Seuyoria. Here you can see some of the best Iberian and Roman art on display. There are certainly some unique pieces to be found in the Pucol Agricultural Museum; created in the 1970's, the museum conserves the tools and traditions used in the farming sector that were soon becoming outdated. Now after many years the collection has grown and is an impressive spectacle for comparison to the modern day.
If you fancy checking out how people used to relax back in the day, then head over to Baños Arabes (Arab baths). Sadly you can't endulge yourself, but you can go on a roughly 15-minute tour of the place originally used to cleanse oneself and prepare for religious prayer.