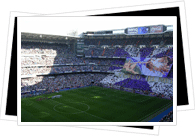 Introduction
There are many things that can be said about Madrid. It gives off a constant sense of energy and sometimes with the nightlife you will wonder how they manage to retain so much of it! Known worldwide for its nightlife and arts scene, which is to be expected of the capital of Spain, Madrid does not disappoint.
Now where to go?
It can really depend on your tastes but now you can check out the short list of where you should be going. It's in all the travel books and for good reason. The Golden Triangle is definitely one of hte highlights, which consists of three of the main museums with a stellar reputation around Spain. The first on the list is Museo del Prado, with a top end line up of some of the best classical pieces of art; with over 7000 pieces in stock you'll need to endulge in a cafe to give yourself a boost. The second is Centro de Reina Sofia which is a little bit more modern than the previous. It has the best modern art with some rather unique pieces scattered around its 4 floors and, with a delightful garden, its sure to provide you with an enjoyable and relaxing day. The final is the Museo Thyssen Bornemisza, which has a huge collection of European art from throughout the ages.
Check out El Rastro, a huge morning market held each Sunday, for all of the bargain hunters out there. If you look hard enough you can find some treasures, though it can get a little generic with some of the products on show. However, this should only motivate you more to get in deep and search for the perfect souvenir.
Sports fans!
Being the capital you would expect a good sporting reputation, right? Well prepare to be amazed by a spectical of sports with some of the top talent in the country. Real Madrid football and basketball teams are keeping the crowds rolling in with consistently impressive performances.