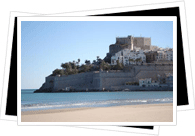 Introduction
There is one thing that is guaranteed about your trip from Valencia to Peñiscola, there is always a great photo opportunity! The souvenir styled town is quaint in regards to its modest lifestyle and surroundings and is certainly the right place to take a break for a few days to relax.
Time to Relax
When you get there you want to know wheres best to go once you have bought all those essential souvenirs. Head down the 9km of delight of Paseo Maritimo Promenade, passing sights such as Saint Anton Castle, the tower park and House of Mankind.
For a bit of history be sure to check out the 14th century castle. Once home to Pedro de Luna , it was constructed by the knights templar. If you want to get to know the history of Peñiscola a little bit better then check out Museu de la mar. It plays host to all of the sea related history of this quiet town.
After you have worked up an appetite you can endulge on the culinary tastes of Casa Jaime, a relaxed atmosphere family run restaurant that serves a great suquet de peix.