Out & About in Valencia, Spain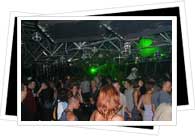 One of the problems with Valencia is that, with so much to do and see, chances are that you run out of time before you get to do it all! Shop until you drop. Lay in Valencia's grassy parks and enjoy a picnic lunch. Do your best doggie-paddle in the warm Mediterranean waters. Join the rowdy fans and cheer Valencia's football team, one of the top teams in Spain, on to victory. Treat your palate to a wide range of restaurants. Spend the night - and we mean ALL night - bouncing around Valencia's nightlife scene, sipping cocktails and dancing it up in venues of all styles and crowds. Then go to bed and get ready for day two!
Find out more about things to do Out & About in Valencia!