Museums in Valencia, Spain
With somewhere in the realm of 40 museums to its name, culture-seekers in Valencia have the opportunity to explore anything from modern artwork to the famous ninots salvaged from the flames of Las Fallas. Many of the city's museums are free, however, consider purchasing the extremely useful Valencia Tourist Card- especially if you have plans of visiting more than two! For one, two, or three days, this pass grants you free or discounted entry to the city's many museums.
Check out just a sprinkling of the city's museums below...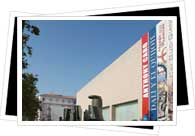 IVAM
(Valencian Institute of Modern Art)
With over 7000 works of variousmedia spanning the course of the 20th century, the IVAM is considered to be one of the top three modern art museums in Spain. Focusing upon the Julio González and Ignacio Pinazo collections, the museum seeks to research and promote 20th century art through permanent collections, temporary exhibits, conferences, workshops and more- all focusing upon the most contemporary of vanguard artists. Plus, in the so-called Sala de la Muralla (Wall Room), you can check out the remaining sections of Valencia's ancient medieval walls and fortifications which were taken down years ago.
c/ Guillem de Castro, 118
Tlf: 963 86 30 00
www.ivam.es (in Spanish, Valencian, English)
MUVIM
(Valencian Museum of the Enlightenment and Modernity)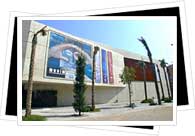 Dedicated to a decisive period of Spanish intellectual history, the MUVIM (Valencian Museum of the Enlightenment and Modernity) seeks to explain and promote the understanding of the ideas, concepts, and lifestyles behind the 18th-century Age of Enlightenment. Going even further, the museum has a permanent exposition called "The Adventure of Thought" which essentially summarizes the course of western thought from Medieval times through today, and a constant agenda of temporary exhibits, film series, talks and conferences.
c/ Guillen de Castro, 8
Tlf: 963 88 37 30
www.xarxamuseus.com/muvim/ (in Spanish)
Museu de les Ciences Príncipe Felipe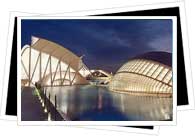 (Prince Felipe Museum of Science)
Found within one of the truely awe-inspiring and futuristic buildings of the City of Arts and Sciences, the Museo de las Ciencias Príncipe Felipe (Prince Felipe Museum of Sciences) is one of the few museums where it's frowned upon if you don't touch everything in sight! Combining science with the latest in technology, the museum features interactive exhibits, various activites, experiments, and a constantly changing program of events.
Autopista del Saler, 1-7
Tlf: 961 97 45 00 or 902 10 00 31 (information and reservations)
www.cac.es (in Spanish, Valencian, English)
Museo de Bellas Artes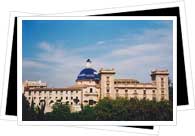 (Museum of Fine Arts)
Situated upon the opposite side of the Turia riverbed, the Museo de Bellas Artes can be found in a historic Baroque seminary school dating back to 17th century. The museum is intenrationally renowned and considered amongst the best art museums of Spain- not an easy feat!
The museum counts 2000 works amongst its vast collection, featuring artistic giants like Francisco de Goya, José de Ribera, El Greco, Diego Velázquez and Joaquín Sorolla, known for his famous beach paintings done along Valencia's beaches. The museum also shows collections of contemporary art, sculptures attributed to Valencia's Mariano Benlliure, and a wide range of archaeological finds.
c/ San Pío V, 9
Tlf: 963 87 03 00
www.cult.gva.es/mbav (in Spanish)
Centro Cultural la Beneficencia
(The Charity Cultural Center)
Housed in a 19th century hospice that went by the name of La Benifencia (Charity), this cultural center contains not one, but two museums within its walls: the Museo Etnológico (Ethnology Museum) and then Museo de Prehistoria de Valenca (Museum of Valencian Prehistory). The Museo Etnólogico counts nearly 15,000 objects hailing from various aspects of the traditional Valencian society amongst its collection. Such objects include testimonies, photographs, documents, and more- all linked together through interactive and audiovisual exhibits to help piece together various vacets of the life and times of previous generations.
The Museo de Prehistoria de Valencia consists of human fossils, primitive drawings, dishes and a wide range of other uncovered artifacts starting with the Paleolithic era and running through the Neolithic, Bronze, Iberian, and Roman eras. The star of the museum is perhaps the stunning Roman mosaic uncovered from nearby Font de Mussa. Don't miss it!
c/ Corona, 36
Tlf: 963 88 35 65
www.xarxamuseus.com/etnologia/
www.xarxamuseus.com/prehistoria/

Museo de la Cerámica
(Ceramics Museum)
The Museo de la Cerámica is one of the most famous and popular museums in Valencia... and for good reason! Located int he Palacio del Marqués de Dos Aguas (Palace of the Marqui of Dos Aguas), the museum features ceramics spanning every era; check out tiles, dishes, and other ceramic work ranging from prehistory to Picasso- apart from his famous painting styles, Picasso also dabbled a bit in ceramics! Particularly oustanding and not to be missed are the Arab and later Christian ceramics from Manises, a small town along the outskirts of Valencia.
c/ Poeta Querol, 2
Tlf: 963 51 63 92
mnceramica.mcu.es
Centre del Carme - Museo de Bellas Artes de Valencia
(Carmen Center - Museum of Fine Arts of Valencia)
Serving as an extension of the Museo de Bellas Artes, the Centre del Carme is located in the Gothic Convento del Carmen. Currently there are constant temporary exhibits that pass through. However, plans are underway to make it the seat of the larger Museo de Bellas Artes' extensive collection of 19th century artwork.
c/ Museo, 2
Tlf: 963 15 20 24
Museo-Casa Benlliure
(Benlliure Museum-House)
The Benlliure Museum-House focuses on three different but linked facet: exploring the life and times of Valencian painter José Benlliure, recreating the atmosphere of a middle to high class bourguoise home during the time of the Spanish Restoration (1874-1931), and spotlighting Benlliure's personal collection artwork including his own work, that of his son, and that of his friend and famous painter Joaquín Sorolla. Definitely check out the incredible Mediterranean garden that Benlliure himself planted.
c/ Blanquerías, 23
Tlf: 963 91 16 62
Museo de Historia de Valencia
(Museum of Valencia History)
Housed in a 19th century building just steps away from the city's Parque de Cabecera (Cabecera Park), the latest technology helps to make history seem not quite so far away. Focusing on Valencia's history the earliest times to present day, this interactive museum is totally targeted at the visitor and a lot more than simple displays.
c/ Valencia, 42
Tlf: 963 70 11 36
Museo del Patriarca
(Museum of the Corpus Christi Seminary School)
In the Corpus Christi Seminary School, priests were educated and trained during a period of extreme pro-Catholicism with the growing threat of the competing Protestantism. Take the opportunity to get a feel for the ultra-religious atmosphere at the time of the Spanish Counterreform not only through the seminary building itself but for what it holds within. See a wide range of books, documents, tapestries, artwork and textiles straight from the time period. Definitely worth a look is the extensive collection of paintings by such greats as Francisco Ribalta, Juan Sariñena, and Luis de Morales.
c/ Nave, 1
Tlf: 963 51 41 76
Museo Taurino
(Bullfight Museum)
Founded in 1929, the Bullfight Museum of Valencia is one of the oldest and most valuable bullfight museums in Spain- and trust us, there are a lot! Learn all about the past, present, and future of this quintessential Spanish sport- or cultural activity, as the enthusiasts prefer to call it- through a collection of objects, posters, traditional outfits, and other paraphrenalia from the 18th through 20th centuries. Pasaje Doctor Serra, 10
Tlf: 963 88 37 37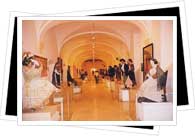 Museo Fallero
(Museum of Las Fallas)
Housed in a structure which has spent time as a hospice, a military barracks, and a military jail, the Museum of Las Fallas contains a fascinating array of paraphrenalia collected between 1934 and today from Valencia's infamous pyrotechnic festival. Within its walls you can check out photos, posters, and a fascinating collection of the elaborate Ninots salvaged each year from the engulfing flames by popular demand.
c/ Monteolivete, 4
Tlf: 963 52 54 78
Museu Catedralicio
(Cathedral Museum)
Amongst the Cathedral Museum's rather peculiar collection you can find various church-related relics, paintings by Francisco de Goya, a 2300-kilogram jewel-encrusted tabernacle, mummified bishops, the arm (yes, the arm) of Saint Vicente, and supposedly the Holy Grail- according to the Cathedral, it's the real thing!
Plaza de la Reina, s/n
Tlf: 963 60 57 93