Theaters in Valencia, Spain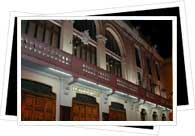 With festivals like the pyrotechnic party otherwise known as Las Fallas it's no surprise that Valencia, in general, has a pretty passionate and historic affinity for putting on a great show. In fact, one of Valencia's many claims to fame (aside from paella, Las Fallas, the City of Arts and Sciences...) is that El Misteri d'Elx, a Valencian opera, is widely accepted as the oldest opera in the world!
The city's diverse performing arts scene is just one more reflection of this inherent quality of Valencia. Check out the ultra-modern architecture of the Palau de les Arts Reina Sofía before taking in a top-notch opera performance, enjoy a musical and scope out the original wooden boxes in the Teatro Principal - Valencia's oldest theater- or revel in the authentic Valencian vibe of the Moderniste Teatro Talia, once the theater of the working class. Below are just a few of Valencia's most popular theater venues- check them out to see what's on!
Palau de les Arts Reina Sofía
City of Arts and Sciences
Autopista del Saler, 1
Tlf: 963 16 37 37
Go here for: Opera, ballet, orchestra, experimental theater
Teatro Principal
c/ Barcas, 15
Tlf: 963 53 92 00
Go here for: Theater, musicals, opera
Teatro Rialto
Plaza del Ayuntamiento, 17
Tlf: 963 53 93 00
Go here for: Valencian, national and international theater companies; various genres
Sala Moratín
Plaza del Ayuntamiento, 17
Tlf: 963 53 93 00
Go here for: Avant-Garde and experimental theater
Teatro Olympia
c/ San Vicente Mártir, 44
Tlf: 963 51 73 15
Go here for: Various genres: traditional, modern, musicals, operas, classical theater, etc.
Espai Moma
c/ Platero Suárez, 11
Tlf: 963 65 49 20
Go here for: Independent and contemporary plays
Teatro Talia
c/ Caballeros, 31
Tlf: 963 91 29 20
Go here for: Musicals, classical theater
Micalet
c/ Guillem de Castro, 73
Tlf: 963 92 07 86
Go here for: Avant-garde and independent theater
Teatro Escalante
c/ Landerer, 5
Tlf: 963 91 24 42
Go here for: Productions for children and families