Trip from Valencia, Spain to Sagunto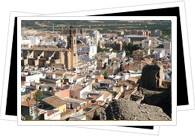 Travel from Valencia to Sagunto and discover this culturally eclectic gem of a city only 25 km north of Valencia.
Sagunto is the site of a fiery past and the incredible Roman remains and Moorish constructions that still line the streets today are pure evidence of this.
Ever since Sagunto became the site of a nine month siege headed by Carthaginian general, Hannibal in 219BC it was destined to suffer a stormy history. The dedication of the Sagunto's townspeople to their home meant they they opted to burn the city and themselves before they would be seen to surrender.
After this Sagunto was gradually rebuilt over time by Carthaginians and Romans, as well as Moors who temporarily renamed the city Murviedro. Remains of the different powers which ruled over Sagunto can be found throughout the city today.
Roman influence can be seen in the beautiful Teatro Romano whose original structure would have housed up to 6,000 spectators. Built in the second century, this beautiful amphitheatre has undergone careful restoration so that it can still be used today. Even if you don't manage to catch a performance it is well worth visiting just to admire the view which surrounds it - dramatic cliffsides and the nearby Castle.
There is some attractive architecture around the Plaza Mayor, including the beautiful gothic Santa Maria Parish church which dates all the way back to 1334 and is complete with gargoyles and all. The oldest Christian church is the 13th century Iglesia del Salvador.
The remains of a complex series of Arabic walls can also be found around the city and a stroll through La Judería, or Jewish Quarter, makes for a very enjoyable afternoon. Some of the best preserved architecture can be found in this area, from the wobbly little houses to the winding streets which duck and dive into each other, this is undoubtedly Sagunto's most charming area.