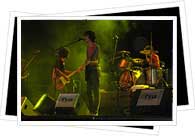 Between the fireworks and the music- sometimes at the same time- constantly filling the air, it won't take long for you to realize that valencianos are a noise-loving and noise-making people. Valencia, as one of Spain's musical centers, has a well-deserved reputation as a musical standout- certainly no easy task, as Spanish folk music is considered amongst the richest in the world!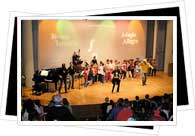 Valencia Music - Traditional
Traditional Valencian folk music, much of which consists of religious and work songs of years, is a culmination of elements plucked from a wide array of influences. Traces of early Iberian, Roman and Moorish - civilizations of Valencia's history - music have been pinpointed, as have musical elements hailing from Valencia's neighboring communities of Cataluña and Aragón. Seamlessly melding together with the help of Valencia's own finishing touches, the unique mixture of regional, national and international ingredients have yielded a musical tradition known both for innovation and individuality.
In many parts of the world, folk music and dance has all but disappeared- perhaps pulled out of the closet but once or twice a year for a certain event. Regional music and dance in Valencia, on the other hand, have a far-reaching history and have yet to lose their popularity and cultural importance.
Valencia Music - Folk Dances & Music
-Fandango de Albaida
-Valencian Jota
-El Ball del Danzants
-El Ball del Oficis
-Los Alcides
-Los Bastonets
-Los Porróts
-Paloteo de Requena
Valencia Music - Bandes
Composing one of the most important facets of Valencia's music scene, both past and present, are its internationally renowned "bandes." Found in every city and village of the Valencian community, these "bandes" are performing brass bands that play an integral part in festivals; in fact, they even have a music festival of their own: the Certamen Internacional de Bandas de Música (International Band Competition). Taking place annually since 1886, thousands of musicians descend upon the city as parts of regional, national, international, civilian and military brass bands.
Valencia Music - Today
With a musical tradition reaching back hundreds of years, it's no surprise that Valencia's music scene today boasts an eclectic jumble of genres, concert venues, live music and festivals. From some of Spain's best zarzuelas (light, folk-inspired operas) to the stylings of rock & roll, jazz and the brand-new Valencian Orchestra, it's undeniably clear that Valencia has a great ear for anything with a catchy beat.