Modern History of Valencia, Spain
Contemporary History of Valencia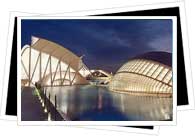 The 20th century started off well, but the good luck would run dry with the Spanish Civil War, which lasted from 1936 until 1939. Valencia had sided with the Republicans, who had moved their government headquarters to Valencia after future dictator Francisco Franco's Nationalist forces took Madrid.
Unfortunately, they once again sided with the losing team and would pay for it for decades to come. To worsen matters, in 1957 Valencia fell victim to severe flooding of the River Turia, which sent up to two meters of water rushing through the streets and damaging much of the city. The river was re-routed and now passes around the southern and western Valencian suburbs. The riverbed is now a seven-kilometer park leading to the brand-new City of Arts and Sciences.
Following Franco's death after an oppressive 35-year reign, Valencia enjoys a high degree of autonomy and is a prospering hub of commerce, industry and tourism.
Learn about other epochs of Valencia history!