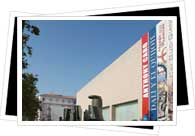 As the oldest part of Valencia, you can think of El Carmen like the local old-timer that has overseen the city's historical, social, and cultural development- and played a part in all of it! The district, also called El Carmé by the valencianos, has stepped into roles ranging from Muslim ghetto to Moorish refuge, home of medieval aristocracy, Industrial Revolution working class district and everything in between.
The El Carmen that you'll encounter today is the "hip" place to be at all hours of the day thanks to a major government-funded initiative aimed at pulling El Carmen out of the cultural, social and economic slump that had been plaguing it- and trust us, the outcome was more than successful!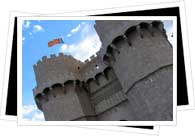 El Carmen by day is a laid-back cultural haven in which you can easily idle the day away ambling through winding streets, passing by medieval towers, exploring fascinating museums, taking in theater performances, gazing at somber convents, nursing cups of coffee in relaxed cafés, and otherwise basking in the zone's general charm. Catch a musical at the historic Teatro Talia, jam to live rock and roll at Jimmy Glass and peruse the over 360 artistic marvels of the 20th century housed in the fabulous IVAM (Valencian Institute of Modern Art), one of the top three modern art museums in all of Spain!
For as laid-back and tranquil as it may be by day, come nightfall El Carmen kicks things up a few notches and reemerges as a frenetic after-hours playground. As a major area of Valencia's famous marcha (nightlife), party-goers and music spill out of the bars, clubs, and live music venues until the wee hours of the morning.
Where to experience culture in El Carmen:
Museums:
-IVAM (Valencian Institute of Modern Art)
-Museo Etnológico (Ethnology Museum)
-Museo-Casa Benlliure (Benlliure Museum-House)
-Museo del Siglo XIX (Museum of the 19th Century Art)
Theaters:
-Teatro Talia
-Micalet
-Teatro Escalante
Live Music:
-Jimmy Glass