Bike Rentals in Valencia, Spain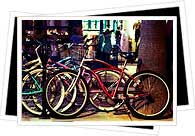 Valencia Bike Rentals:
Whether you want to hit up Valencia's various biking tracks for exercise or prefer to cruise leisurely along the coast, biking is one of the few childhood activities that never loses its light-hearted charm. With mild weather, non-stop sunshine, expansive parks and beach-side promenades, Valencia is a city that not only embraces biking but also takes active steps to promote it! There are numerous companies, the majority of which offer discounts if you have a Valencia Tourist Card, that rent out mountain and road bikes by the day, the weekend or the week, so strap on your helmet and get pedaling!