Bus Station in Valencia, Spain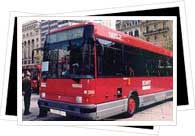 Whether you want to spend a day in a small beach town, check out the natural marvels of La Albufera, or pick up and head to France on a whim, you can essentially get to and from anywhere out of Valencia's bus station. Located northwest and across the Turia Park from the historical zone of Valencia, Valencia's bus station is a hive of activity with buses constantly arriving from and departing for destinations thoughout the Valencia region, throughout Spain and beyond!
Estación de Autobuses de Valencia (Valencia Bus Station)
Avda. Menéndez Pidal, 13
Tlf: 963 46 62 66
Metro stop: Turia
Valencia Bus Companies - National
These bus companies, all of which run routes to and from the Valencia Bus Station, will get you to and from anywhere Spain, whether it be a little-known village or an energetic metropolis.
Autobuses Jiménez
Tlf: 963 40 75 71
To/From: Calamocha, Zaragoza


Auto-líneas Alsina
Tlf: 963 49 72 30
To/From: Ciudad Real, Toledo, Aranjuez, Ocaña, La Roda, Villamalea, Tomelloso, Mira, Quintanar de la Orden, Alcázar, Cañete, Camporrobles, Cuenca, Almodóvar, Valverde, Ayora


La Requense de Autobuses
Tlf: 963 49 72 30
To/From: Puertollano, Albacete


Bilman Bus
Tlf: 963 47 89 89
To/From: Logroño, Vitoria, Bilbao, Santander, Tudela, Pamplona, Tolosa, San Sebastián, Irún


Auto-Res
Tlf: 963 48 22 39
To/From: Through Madrid to Cáceres, Lisbon, Mérida, Badajoz, Orense, Ponteveda, Salamanca, Vigo, Zamora


Alsa/Enatcar
Tlf: 902 42 22 42
To/From: Almansa, Albacete, Jaén, Granada, Málaga, Marbella, Algeciras, Castellón, Tarragona, Barcelona, Manresa, Gandía, Denia, Alicante, Córdoba, Sevilla, Alginet, Yecla, Caravaca, Cullera, Sueca, Sollana, Silla


Autocares Grupo Samar
Tlf: 963 49 56 09
To/From: Valencia, Jérica, Viver, Rubielos, Teruel, Monreal, Molina de Aragón, Alcolea, Guadalajara, Madrid


Hife
Tlf: 963 49 23 10
To/From: Lerida, Castellón, Tortosa, Vinaroz


Autobuses Buñol
Tlf: 963 49 14 25
To/From: Torrente, Monserrat, Montroi, Real de Montroi, Llombai, Catadau, Alfarp, Dos Aguas, Millares, Turis, Guadasuar, Alzira, Carcaixent, Tarvernes, Benifairó, Simat, Algemesí, Albalat, Benicull, Polinyá, Riola, Cheste, Chiva, Buñol, Alborache, Macastre, Yátova, Silla, Ford, Almussafes, Benifaió, Benimodo


La Concepción
Tlf: 963 49 99 49
To/From: La Costera, L'Olleria, Aielo, Malferit, Ontinyent, Bocairent, Bañeres, Beneixama, la Cañada, Villena


Autocares Herca
Tlf: 963 49 12 50
To/From: Montanejos, Segorbe, Sedaví, Moncada


Travicoi
Tlf: 963 47 04 27
To/From: Alcúdia de Carlet, Massalavés, Alberic, Llosa de Ranes, Xàtiva, Albaida, Muro de Alcoi, Cocentaina, Alcoi
Valencia Bus Companies - International
These international bus companies running out of the Valencia Bus Station serve as your gateway to endless European destinations, including Germany, Andorra, Belgium, Holland, Bulgaria, Czech Republic, France, Paris, Marseilles, Italy, Morocco, Poland, Portugal, Romania, Switzerland...
Linebús
Tlf: 963 40 19 79


Eurolines
Tlf: 963 49 68 55


Starbus
Tlf: 963 49 67 67