Baroque Architecture in Valencia, Spain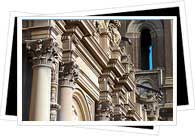 Baroque Architecture in Spain
Following the rigid adherence to the order and logic of the Renaissance, Baroque architecture essentially set out to undo all that the Renaissance had aimed for. Hitting the scene during the 17th and 18th centuries, Baroque architecture is yet another major movement with its roots originally planted in Italy; it then traveled both by land and by sea to kick-start the movement throughout the rest of Europe.
Baroque Architecture Characteristics
With its historical love of decoration, Spain quickly left the simplicity of the Renaissance behind in favor of the exuberant Baroque style. Baroque architecture sought to transform the forms of the Renaissance. Semicircular frontons (moldings above a window or door) were instead constructed by inverting or breaking the original forms, columns were twisted and added purely for aesthetic purposes and harsh, straight lines found themselves replaced by curves. Both playful and dramatic, architects also learned to emphasize the effect by integrating expressive sculpture and playing with the effects of light and perspective. When all of these Baroque architectural characteristics are combined, the result is a splendid- though at times borderlining on over-the-top- structure meant to leave you wide-eyed and open-mouthed.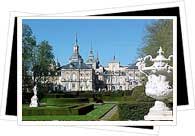 Baroque Architecture in Valencia
Valencia is known for its Baroque presence- especially livening up the façades of many of the city's older buildings. The best example is perhaps the Palacio del Marqués de Dos Aguas, which features extravagant stylization inside and out as well as a huge purely Baroque alabaster doorway that resembling rushing water. In the Cathedral, which itself features a potpourri of architectural styles, the Capilla Mayor (the main chapel) as well as the main entrance into the Cathedral from the Plaza de la Reina are stunning examples of pure Baroque, as is the nearby Iglesia de los Santos Juanes (Church of the Saint Johns).