Neoclassical Architecture in Valencia, Spain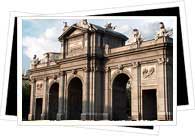 Neoclassical Architecture in Spain
The flourishing of Neoclassical architecture accompanied the rise of the period known as the Enlightenment. The Enlightenment, along with its accompanying artistic expressions, was a movement backed primarily by the rising Bourgeois class, who shunned the frivolous lifestyles and artwork of the aristocracy; the extravagant Baroque architecture, for example, was beloved by the upper class.
Proponents of the Enlightenment sought to once again return to the purity, logic, philosophy and balance of ancient Rome and Greece. Instead of getting caught up in unnecessary things, they wanted to influence thought and enrich lives; for this reason, Neoclassical architecture has a tendency to manifest itself through constructions like libraries, academies, hospitals, etc. This resulting architectural style was almost always monumental in scale and appearance, with an emphasis once again placed on symmetry and simplicity.
Neoclassical Architecture Characteristics
The first step in creating a Neoclassical building was to throw out the frivolous details of the preceding Baroque style and, instead, ensure that everything included have an essential function. Columns, for example, recuperated their original value as a support and clean lines once again replaced dramatic curves. Symmetry, balance and a return to the basic, geometric forms of antiquity give Neoclassical buildings a monumental appearance and an air of academia typical of the Greek and Roman temples that architects sought to emulate.
Neoclassical Architecture in Valencia
Valencia's streets hold several examples of Neoclassical architecture, all of which - in true Neoclassical form - are of a monumental, intellectual nature. The first is the Antigua Universidad (Former University). Elegant both inside and out, the building features a cloister with doric columns and references to teaching, a façade that resembles an ancient temple with marble statues and, in general, an austere appearance devoid of unnecessary decoration.
You can also easily find Neoclassical architecture with a more creative touch typical of Spain. The Ayuntamiento (City Hall), Correos (Post Office), and Palacio-Monasterio del Temple (Palace-Monastery of the Templar) for example, are imposing buildings featuring the same classic forms and columns of the Antigua Universidad except played up a bit more.
Finally, for a different kind of structure, Valencia's Plaza de Toros (bullring), which bears an uncanny resemblance to Romen's ancient Colosseum, is a fascinating example of Neoclassical architecture. Be sure to squeeze in a bullfight or at least check out the bullring's museum while you're there!