City Bus System in Valencia, Spain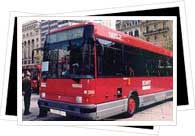 Valencia boasts its own version of the Spanish armada as seen in its cherry-red fleet of city buses. Handled by the company EMT (Empresa Municipal de Transportes), this network of urban transportation consists of a whopping 58 bus lines: 45 daytime routes, eight nocturnal routes and four beach routes. Plus, to handle the influx of sun-seeking, towel-toting beach-goers during the summer, an additional three beach lines are integrated into the system.
Many people who are unacquainted with the massive network of Valencia city buses are put off by the vast number of routes. However, anything is easier with a map, and lucky for travelers there are maps posted of the entire network of lines in nearly every bus stop. Buses pass through on approximately five-minute intervals, so if you need some more time with the map you don't have to worry about being stranded for hours!
Valencia city bus passes are extremely easy to come by. If you're just looking for a single trip ticket, you can buy it right on the bus. Otherwise, hit up one of the many street kiosks and tobacco stands for an array of multiple-trip value cards or head to any Valencia metro station for combined metro/city bus passes. Don't forget that amongst the numerous pay-offs of having a Valencia Tourist Card, all public transportation is free for the validity of the card!
EMT
Address: Plaza Correo Viejo, 5
Company Telephone: 963 15 85 00
Customer Service Telephone: 963 15 85 15
More information: www.emtvalencia.es (in Spanish & Valenciano only)