Markets in Valencia, Spain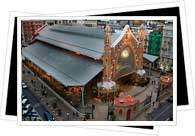 Keeping with its age-old tradition as a hub of commerce, Valencia is brimming with markets of all kinds and sizes. If you like the freshest of everything - especially from the Mediterranean and the fertile La Huerta - the city all but overflows with lively markets. Built in 1928, Valencia's immense - it's one of the biggest covered markets in Europe - Mercado Central (Central Market) is hands-down the city favorite, both amongst tourists and locals. A veritable hive of activity, you can cruise around the market's endless stalls seeking out fresh local products- fruits, vegetables, flowers, eggs, meats, seafood, etc. - within this stunning iron and glass Moderniste market.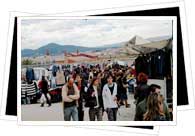 As a city in which life consists of being out in the streets, there are tons of open-air flea markets that pop up in various parts of Valencia with each day of the week. Head to these hippie-style markets - called mercadillos - during the morning hours to shop for anything from clothes to antiques, flowers and random knick-knacks that you didn't even realize you needed. During different holiday seasons, the street market scene expands even more as seasonal specialty markets grace city squares. Particularly enjoyable are the Christmas markets, where cheery holiday caroles and the smell of incense complement the atmosphere as you meander through stalls selling nativity sets, decorations, toys and other Christmas goodies.
Valencia Markets
Mercado Central (Central Market)
Plaza del Mercado, 6
Tlf: 963 82 91 01


Mercado de Colón (Colón Market)
c/ de Cirilo Amorós
>
Valencia Flea Markets ("Mercadillos")
Algirós
Where: Plaza San Felipe Neeri
When: Mondays


Central
Where: Palafox, En Gay, Calabazas, Plaza del Mercado
When: Mondays


Benimamet
Where: c/ Onda, c/ Carpintero, c/ Alborache
When: Wednesdays


Castilla- Avenida del Cid
Where: c/ Jose Maestre, c/ Ángel del Alcázar, c/ Músico Ayllón, c/ Miguel Paredes, c/ Llombay, Plaza Mercado
When: Wednesdays


Cabanyal
Where: c/ Justo Vilar, c/ Marino Sirera, c/ Vicente Brull, Avenida Mediterráneo, Plaza Cruz del Canyamelar, c/ Rosario, c/ Martí Grajales
When: Thursdays


Benimaclet
Where: c/ Rafael Tramoyeres, c/ Juan Giner
When: Fridays


Castellar
Where: c/ Escultor Federico Siurana, c/ Aurora
When: Fridays


Benicalap - La Parreta
Where: c/ Casanova Benlloch, c/ Sierra Martes, c/ Mirasol, c/ Tenor Lauri Volpi
When: Saturdays



El Rastro
Where: Area around the Campo de Fútbol de Mestalla
When: Sundays


Stamps & Coins Market
Where: La Lonja
When: Sundays
Valencia Holiday Markets
L'Escuraeta
Where: Plaza de la Reina
When: Día de la Virgen de los Desamparados
Shop for: Ceramics


Mercado de Navidad (Christmas Market)
Where: Around the Mercado Central (Plaza Doctor Collado, Plaza Lope de Vega, Plaza de la Reian, Avda. Barón de Cárcer, etc.) and around the Mercado del Cabañal (Calle Marino Sirera, Calle Martí Grajales, Calle Justo Vilar)
When: December 15 - January 6
Shop for: Christmas decorations, toys, nativity sets, etc.