Tapas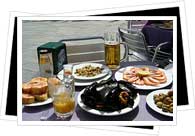 There are few things more "typically Spanish" than spending a night bar-hopping your way around any Spanish city's tapas scene. Today, it's perhaps one of the only gastronomic phenomenons of international fame that doesn't involve fancy dress and a heavily depleted bank account.
Essentially the perfected art of snacking, this Spanish tradition got its start as simply a practical way to keep pesky flies out of bar patrons' drinks. Bartenders took to covering the beverages with a lid (or "tapa") fashioned out of a small plate or a piece of bread. Soon, a piece of ham or cheese was added to the tapa, an addition that certainly pleased the customers. Taking note of the possibilities, bartenders began to get more creative with the tapas until they evolved into the major national - and now international - experience that it is today.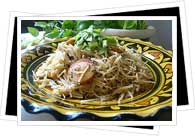 In Valencia, instead of sitting down night-after-night for a fancy meal check out the local tapas scene; as Spain's third largest city, you can imagine the quantity and quality of its tapas establishments! As a city that has long thrived on fresh produce, rice dishes and seafood straight from the sea, you're likely to see various combinations of these local products in Valencia's food dishes- tapas included. Every restaurant and tapas bar has its own unique atmosphere, therefore you can find a wide range of regional, national, traditional and creative tapas options.
If you don't know how to tell if a tapas bar is worth a stop or not, just glance inside; if it's full of people and with a floor littered with napkins, take that as a thumbs up!
Typical Valencia Tapas
Aceitunas: Marinated olives, often stuffed with peppers.
Boquerones: Anchovies marinated in an olive oild and red wine vinegar dressing.
Calamares: Squid served either deep-fried or in a tomato and onion red wine sauce.
Caracoles picantes: Snails sautéed with smoked chilli and laurel leaves.
Chorizo: Spiced sausage.
Ensaladilla: Mixture of potatoes, eggs, vegetables and mayonnaise.
Patatas bravas: Roasted potatoes with a spicy sauce as well as alioli sauce.
Jamón: Cured Spanish ham.
Mejillones: Mussels that often come with a tomato-based sauce.
Sepia: Grilled cuttlefish usually served with alioli.
Tortilla española: Traditional Spanish potato omelette.
Tellinas: Tiny sweet clams steamed with butter and lemon.