Typical Bars & Restaurants in Valencia, Spain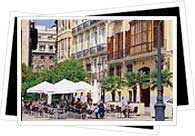 As Spain's third largest city, it isn't hard to imagine the quantity and quality of Valencia's wide range of dining establishments- plus, as the founding city of paella you know you're in a food-lovers haven! Valencia food is characterized by the freshness of its products, which hail from the fertile La Huerta and the Mediterranean Sea, and the simple yet creative nature of its dishes.
You can find bars and restaurants serving up traditional Valencian fare - seafood, paella, tapas, etc. - throughout the city, though the ancient, atmospheric streets of El Carmen hold endless gastronomical finds. The streets surrounding the Plaza del Ayuntamiento are also sure to please, with the added benefit of its being a particularly economical dining area. If you're in for a splurge, on the other hand, grab your credit card and head to the pedestrianized Calle Mosén Femades known for its upmarket seafood restaurants.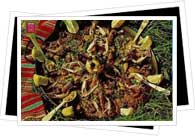 Finally, locals and tourists alike gravitate to Las Arenas - outside of the historical zone and running along the beach - for the so-called "real stuff." These restaurants are known not only for their top-notch seafood and unbeatable paella but also for the sweeping views of the Mediterranean.
A few typical bars and restaurants in Valencia:
Torrijos
c/ Doctor Sumsi, 4
Tlf: 963 73 29 49
Go here for: Torrijos boasts a creative, modern - though slightly expensive - spin on Spanish cuisine.


Restaurante La Marcelina
Paseo de Neptuno, 8
Tlf: 963 71 20 25
Go here for: With a great view of the Mediterranean Sea, La Marcelina has been serving up Valencia's most traditional dishes - naturally paella is a top seller - since 1888.


Sol i Lluna
c/ del Mar, 29
Tlf: 962 92 22 16
Go here for: Sol i Lluna is a modern, eclectically lit restaurant with creative gourmet tapas and, on weekends, a busy atmosphere fueled by dance music.


La Lluna
c/ Sant Ramón, 23
Tlf: 963 92 21 46
Go here for: With "La Huerta" providing the city with a vast array of fresh produce, vegetarian restaurant La Lluna offers great variety and an inexpensive menú del día at just €6.00.


Restaurante Submarino
Oceanogràfic (in the City of Arts and Sciences)
Tlf: 961 97 55 65
Go here for: Located in the aquarium of the City of Arts and Sciences, Restaurante Submarino is a circular restaurant which instead of wallpaper is surrounded by a giant aquarium filled with over 1,000 fish. The restaurant itself has superb food- especially its seafood and rice dishes.


El Rall
c/ Tundidores, 2
Tlf: 963 92 20 90
Go here for: Served primarily outdoors in a small square, El Rall is known for its paella (2-person minimum) and seafood.


La Pepica
Paseo Neptuno, 16
Tlf: 963 71 03 66
Go here for: A former favorite of author and Spain-fanatic Ernest Hemingway, La Pepica is larger and more expensive than its neighboring restaurants, but it's worth it. The food - especially the seafood and the rice dishes - and the walls are plastered with photos and tributes.


La Lonja del Pescado Frito
c/ Eugenia Viñes, 243
Tlf: 963 55 35 35
Go here for: While it doesn't look like much more than a glorified tin hut, La Lonja del Pescado Frito is absolutely unbeatable for straight-from-the-sea fresh fish.


Seu-Xerea
c/ Conde Almodóvar, 4
Tlf: 963 92 40 00
Go here for: A local favorite, Seu-Xerea's constantly changing à la carte menu offers international and national dishes with a creative touch. A "menú del día" costs about €14.00.


Las Cuevas
c/ Samaniego, 9
Tlf: 963 91 71 96
Go here for: Appropriately named "The Caves," Las Cuevas is a low-ceilinged, semi-basement restaurant famous for its lost list of diverse tapas.


Restaurante El Generalife
c/ Caballeros, 5
Tlf: 963 91 78 99
Go here for: Restaurante El Generalife boasts imaginative national and regional dishes and a "menú del día" for €9.00.


Palacio de la Bellota
c/ Mosén Femades, 17
Tlf: 963 51 53 61
Go here for: An upscale seafood restaurant.


Civera Centro
c/ Mosén Femades, 10
Tlf: 963 52 97 64
Go here for: An upscale seafood restaurant


Albacar
c/ Sorní, 35
Tlf: 963 95 10 05
Go here for: Stylish Albacar serves up equally stylish, modern Mediterranean cuisine.


Bar Almudín
c/ Almudín, 14
Go here for: While you can eat a full meal in the Almudín, it's best known for its delicious seafood tapas.


Bar Amorós
c/ en Llop, 3
Go here for: Specializing in seafood tapas for over 70 years, Bar Amorós' offerings are not only fantastic but also fantastically inexpensive!


Bar Cánovas
Plaza Cánovas Castillo
Go here for: Known as one of Valencia's best tapas bars, it also serves typical Valencian meals and has a menú for just €5.40.


Bar Glorieta
Plaza Alfonso Magnánimo
Go here for: A large, old bar with great tapas and a genuine Valencian feel to it.


Bar Pilar
c/ Moro Zeit
Go here for: Bar Pilar is one of Valencia's most traditional places to hit up for fresh "mejillones" (mussles). The mussels come in a piquant sauce and you can just chuck the shells into the buckets under the bar as you go.


La Riua
c/ del Mar, 27
Go here for: La Riua's highlights are without a doubt its home-made paella and fideuá.