Budget Restaurants in Valencia, Spain
There's absolutely nothing wrong with dining on a budget... it's a major money-saver! However, just because you want to save money doesn't mean that you can't sample the best of Valencia's food! Not only is Valencia known for its scrumptious food - fresh produce, seafood, paella, etc. - but it's also known for its extremely wallet-friendly dining options.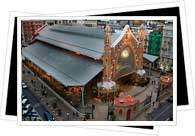 Consider hitting up one of Valencia's markets - the Mercado Central is a great suggestion - to grab fresh food for a picnic in the park; it's a fantastic way to economize, eat delicious regional specialties and commune with the great outdoors! If you're not the picnic type or simply want to soak in the atmosphere of a genuine Valencian restaurant, there are ways to do it all without devastating your bank account.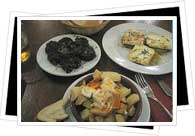 For lunch, seek out restaurants advertising a "menú del día." This means that, from a set menu, you can choose one appetizer and one main course along with bread, a drink and dessert. For as little as €5.00, it's not a bad deal! Dinner time, on the other hand, is the ideal time to check out Valencia's tapas scene. Not only is it a sure-fire way to save money, but it's also a genuinely Spanish way to savor all sorts of local specialties.
Budget restaurants and tapas bars can be found throughout the city, however the areas of the Ayuntamiento, El Carmen and surrounding the train station are chock-full of locales that will leave both your stomach and your bank account happy.
A few budget restaurant suggestions:
Bar Gaviota
c/ Pelayo 21
Go here for: Good tapas and one of the best inexpensive "menús del día" in the area.


Bar Todo a Cien
c/ Bailén, 42
Situated just next to the train station, Bar Todo a Cien serves up tapas for only €0.65 each, while a full "menú del día" will cost you just €4.80.


Bodega Montaña
c/ José Benlliure, 69
Tlf: 963 67 23 14
Go here for: Great and varied tapas; anchovies, cheese, sausage, sardines, and cod meatballs are popular picks.


Sagardi
c/ San Vicente Mártir, 6
Go here for: An atmospheric tapas bar in which you take your pick form a selection of tapas served on baguette slices. Each tapa has a small cocktail stick in it; when you're just, just bring up your cocktail sticks and the bartender will count them and charge just €1.00 for each tapa.


Al Pomodoro
c/ del Mar, 22
Go here for: With pizzas starting at €5.00, this pizzeria is extremely affordable.


S'Horabaixa
c/ Conde de Almodóvar, 4
Tlf: 963 91 21 77
Go here for: A favorite - especially amongst the young crowd - S'Horabaixa is a laid-back eatery serving anything from typical Spanish cheese and sausage to salads and sandwiches.


Bar Cánovas
Plaza Cánovas Castillo
Go here for: Known as one of Valencia's best tapas bars, it also serves typical Valencian meals and has a menú for just €5.40.