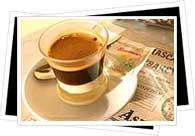 The fusion of Spaniards' inherently social nature and their love of caffeine has yielded Spain's coffee culture, a national phenomenon every bit as celebrated as tapas. No matter where you are in any given city you're sure to be mere steps away from, at the very least, one café- what can you expect from a country in which "coffee-time" is an integrated part of the work day!
Valencia is certainly no exception to the rule, as you can find all sorts of cafés on every corner, down every street and everywhere in between. So cozy up with a book and a steaming mug of your favorite beverage or settle in for a leisurely chat with a friend in one of Valencia's many cafés.
Just a few of Valencia's cafés:
Art i Co
c/ de Arolas
Tlf: 963 91 08 57
Go here for: With a pleasant, laid-back atmosphere, this Valencia café is of the artsy variety with occasional live music and exhibitions.


Cafetería Glorieta
Plaza Alfonso Magnánimo, 3
Tlf: 963 94 48 41
Go here for: Cafetería Glorieta is a local classic. With its genuine Valencian feel, sipping on a hot beverage or nibbling on a pastry in this locale is like being transported back to another epoch.


Chocolatería Valor
Plaza de la Reina, 20
Tlf: 963 15 21 98
Go here for: Founded in 1881, Chocolatería Valor specializes in all things chocolate. So if you've got a sweet tooth, make your way here for hot chocolate, chocolate fondue, chocolate and churros, chocolate cakes...


Zumería Naturalia
c/ del Mar, 12
Tlf: 963 91 12 11
Go here for: Both fun and cozy, relax in wicker chairs while sipping on an oversized goblet of one of the Zumería's 40 different blended juices. If you're just passing through, you can also get your juice to-go in a plastic cup.


Malaluna
c/ Estameñeria Vieja, 9
Go here for: With jazz and blues music setting the mood, laid-back Malaluna is the ideal locale for a relaxing chat over a steaming cup of "café."


Chocolatería Santa Catalina
Plaza de Santa Catalina
Tlf: 963 91 23 79
Go here for: One of Valencia's classic local favorites, Santa Catalina specializes in all sorts of tasty drinks and confections, including the ever-famous Valencian "horchata de chufas"- a frothy summer refreshment made from tiger nuts.


Santa Lucía
c/ Hospital, 16
Go here for: Perfect for an afternoon snack - called a "merienda" - Santa Lucía's claim to fame is its baked goods.


Sant Jaume
c/ Caballeros, 51
Tlf: 963 91 24 01
Go here for: Situated in a former traditional pharmacy, you can sit inside or out on this welcoming café's terrace.