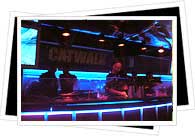 The city's frenetic night clubs are like outlets for all that noise-making, party-loving valenciano energy. While clubs open up around midnight, the Valencia club scene doesn't kick into high gear until around 3:00am; as the city's bars start closing up shop for the night, throngs of former bar patrons become dancing fiends tearing up the floor in the clubs.
Music in these discotecas tends to be of the techno variety, known in Spain as bacalao. However, other styles - alternative, rock & roll, pop music - aren't hard to find either. Also, keep in mind that Valencia clubs generally charge a cover of between €5.00 and €10.00, although this charge will often get you your first drink.
On the other side of the Turia riverbed, the university area, particularly along and around the Avenidas (Avenues) Aragón and Blasco Ibáñez, is a popular area for late-night clubbers. During the summer months, however, trade your sandals in for some dancing shoes and head to the beach, where stylish clubs open up to the delight of locals and tourists alike.
Popular Valencia Clubs
Radio City
c/ Santa Teresa, 19
Go here for: Free nightclub good for post-bar dancing.


New York
Avenida de Aragón, 28
Go here for: Funky music


Caribbean's
c/ Bélgica, 5
Go here for: Salsa and merengue music


Cachao
c/ Periodista Ros Belda, 5
Go here for: Salsa music


Rumbo 144
Avenida Blasco Ibáñez, 146
Go here for: Large, funky club with a light show.


Warhol
Avenida Blasco Ibáñez, 111
Go here for: A smallish club attracting a student crowd and blasting house, 80's and rock music.


Llampua
Plaza Legión Española, 12
Go here for: A small but incredibly fun club with primarily house, pop and techno music.


Bananas
Carretera Valencia-Alicante, El Romani
Go here for: The wildest Valencia club experience; Bananas packs people in by the thousands. There's even a special train that runs from the city out to Bananas and back.