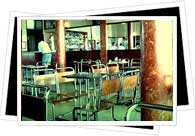 From early evening and well into the wee hours of the morning, Valencia is full of people reveling in "la marcha" (the action). The Valencia bar scene is an eclectic assortment boasting locales of all sizes and styles.
Brimming with everything from punk hang-outs to sophisticated lounges, yuppie pubs and grunge bars, hitting up the winding streets of El Carmen - especially the street Calle Caballeros - is a sure-fire way to have a great time. If you're looking for the "in" area where the city's cool, stylish people go to play at night, head to the Plaza del Tossal and the Plaza de Abastos (especially Calle Juan Lloréns). Both areas are surrounded by hip, trendy night spots perfect for grooving to music and nursing a cocktail in a vogue atmosphere.
El Carmen
Café Bolsería
c/ Bolsería, 41
Tlf: 963 91 89 03
Go here for: An upscale café-bar boasting stone and rusted iron decoration and small upper level terraces. Modern yet comfortable, its a favorite of stylish people looking for cocktails and house music.
Fox Congo
c/ Caballeros 35
Tlf: 963 92 55 27
Go here for: Dark and spacious, a marble bar, patchwork suede benches and a scrap-metal montage ceiling are just a few of hte highlights of Fox Congo's decor. Techno and house music reign supreme.
Johnny Maracas
c/ Caballeros, 39
Tlf: 963 91 52 66
Go here for: A lively salsa bar decorated with bamboo, vines and green lights that even has an aquarium bar.
Carmen Sui Generis
c/ Caballeros 38
Go here for: A music bar featuring three floors, each blasting different music.
Café-Bar Negrito
Plaza del Negrito
Go here for: A popular local favorite with great music and a great crowd.
John Silver
c/ Alta 8
Go here for: A dark, low-ceilinged bar typical of the bars north of the Plaza del Tossal. There's also tables out on the street.
Mercado de Abastos & Around
Akuarela
c/ Juan Lloréns 49
Go here for: A fun bar with a prime beach-side location.
Maruja Limón
c/ Juan Lloréns 54
Go here for: A bar blasting Spanish pop music.
Anubis
c/ Juan Lloréns 34
Go here for: With its Egyptian theme, Anubis is definitely a one-of-a-kind place in Valencia.
Plaza de Cánovas
Go here for: A stylish, slightly upmarket corner bar that attracts a young crowd.
Others
Café de las Horas
c/ Conde de Almodóvar 1
Go here for: A unique Baroque atmosphere complemented by tapestries, classical music and wax-dripping candelabras.
Finnegan's
Plaza de la Reina
Go here for: A popular Irish bar, one of the many in Valencia.
The Lounge
c/ Estameñaría Vieja, 2
Tlf: 963 81 80 94
Go here for: Popular and friendly Irish bar with deep sofas.