Basketball in Valencia, Spain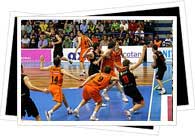 Giving the ever-popular football a run for its money these days is Spain's national basketball league, the Liga ACB (Asociación de Clubs Baloncesto). Behind the NBA, the ACB is widely considered one of the most competitive leagues in the world, a reputation only strengthened by the Spanish National Team's gold medal at the 2006 FIBA World Championships held in Japan!
The Liga ACB is comprised of 18 teams, each of which battle head to head with its fellow league members twice each season. Valencia, with its formidable athetic tradition, has its own basketball team: Pamesa Valencia. If you want to see the team dribble, pass and dunk their way to victory, head to Pamesa Valencia's 9,000-seat Pabellón Municipal Fuente San Lluís de Valencia, more commonly called "La Fonteta" by the team's hoard of fans.
Pamesa Valencia Basketball Club
Stadium & Team Offices:
Pabellón Municipal Fuente Sant Lluís de Valencia
Avda. Hermanos Maristas, s/n
Tlf: 963 95 70 84
Metro: Jesús
Stadium Capacity: 9,000 spectators
Team Color: Orange (Away Color: Blue)
Tickets: You can buy Valencia basketball tickets in the team's offices or online at the team's website, www.pamesabasket.com. On game days, the stadium's ticket offices open up one hour before game time.