Football in Valencia, Spain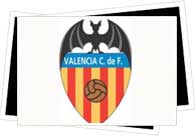 In Spain, calling football (soccer) a mere sport is a vast understatement. Children are constantly scrambling around after footballs in any open patch of land or plaza that they can find, the sports pages of the daily newspapers are practically an ode to the sport and, on game nights, any bartender will agree that football could very well be considered the driving force behind Spain's beer industry.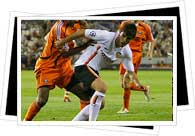 During football season - which, by the way, lasts for the majority of the year - Spanish cities, towns and villages rally behind their favorite teams with an unwavering fervor. Valencia is lucky to have not just one but two teams playing in La Liga, the top division in Spain as well as one of the leading football leagues in the world. Both teams' stadiums are located on the opposite side of the Turia riverbed, so if you want to see Valencia football action live and in action, be sure to head over!
Valencia CF (Club de Fútbol), with yearly tournament appearances, is the city's extraordinarily successful team. The "Chés," as they're called by their massive fan base, have been playing in the 55,000-seat Mestalla stadium since 1928. Plans are in the works, however, for a new 75,000-seat stadium, tentatively scheduled to be completed for 2009.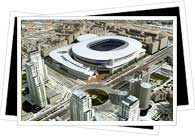 Playing second fiddle to Valencia CF in Valencia's football scene is the much smaller Levante UD (Únion Deportiva). Having just ascended to the elite La Liga in 2004, the Granotes, as they're popularly called, are certainly on the up-and-up in Spain's first division. They play their games at the Estadi Ciutat de València, a smaller 25,570-seat stadium with a great game-night atmosphere.
Valencia CF Info:
Home Colors: Black & white
Away Colors: Black & orange
Nickname: the Chés


Stadium:
Mestalla (capacity 55,000 people)
Avda de Suecia, s/n
Metro: Aragón


Valencia CF Offices
Antigua Senda de Senent, 11
Tlf: 902 01 19 19
Levante UD Info:
Colors: Red & blue
Away Color: Red
Nickname: the Granotes



Stadium:
Estadi Ciutat de València (capacity 25,570 people)
c/ San Vicente de Paul, 44
Tlf: 963 68 80 80
Metro: Primat Reig or Machado


Levante UD Offices
Paseo de la Alameda, 34, 7ºA
Tlf: 902 22 03 04