Golf Courses in Valencia, Spain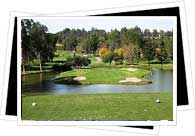 When you hear about Spanish players like José María Olazábal, Severiano Ballesteros and Sergio García who are making waves year after year on the PGA Tour, you know that they must come from a golf-loving country! Golf has become a major activity in Spain in the realms of both competition and leisure and, among the endless facets of its culture, its reputation for top-notch golf courses attracts club-toting golf enthusiasts from all over the world.
The region of Valencia, with its pleasant weather bathing the area with over 300 days of Mediterranean sunshine each year, is a geographically fascinating part of Spain that serves up everything from unspoiled forests to rolling hills, soaring mountain peaks and sweeping views of the shimmering Mediterranean Sea. Valencia's wide range of golf courses, most of which are schemed up and expertly constructed by world-renowned golf course designers, are tucked right into this diverse natural environment.
So if you need a day away from the picture-snapping, museum-visiting hustle and bustle of Valencia sightseeing, consider a day out communing with Valencian nature and hitting the links. Plus, if you, like many travelers, didn't think ahead to packing your clubs into your carry-on luggage, don't worry- most of Valencia's golf courses rent out sets of clubs.
Valencia Golf Courses:
El Saler
Avenida de los Pinares, 151
Valencia
Tlf: 961 61 03 84
Note: 18-hole course


El Bosque Golf & Country Club
Ctra. Godelleta km. 4.1-Urb. El Bosque
Chiva (Valencia)
Tlf: 961 80 80 00
Note: 18-hole course


Club de Golf Manises
Maestrat, 1
Grau de Gandia (Valencia)
Tlf: 961 53 40 69
Note: 9-hole course


El Club Escorpión
Ctra. S. Antonio Benagéber-Bétera, km.3
Bétera (Valencia)
Tlf: 961 60 12 11
Note: 18-hole course


Club de Golf Gandía
Camino Viejo Grau de Gandía, s/n
Grau de Gandía (Valencia)
Tlf: 962 87 32 08
Note: 18-hole, par 3 course


Club de Golf Oliva Nova
Urb. Oliva Nova, s/n
Oliva (Valencia)
Tlf: 962 85 76 66
Note: 18-hole course