Taxi Companies in Valencia, Spain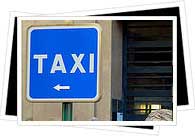 While wandering around any new place on foot is half the fun, Valencia is a big city that is bound to leave your legs begging for a break- especially if you venture outside of the city's compact historical nucleus. Normally that's when Valencia's fantastic public transportation - metro or city bus - steps in to lend its services. However, there are times when public transportation just doesn't cut it, whether it be because you're exhausted from hitting up Valencia's frenzied nightlife scene or because you're simply in a rush to get from point A to point B.
If you arrive in Valencia via airplane, the cheapest way to get from the airport - located outside of the city in Manises - is using the airport Aero-Bus. However, the fastest and most comfortable means (although at around € 14.00 the more expensive option) of traversing those eight kilometers is in the backseat of a taxi. Taxis at the airport aren't hard to find- you'll notice a fleet of taxis waiting at the airport's arrivals terminal ready and waiting to deliver you right to your destination's doorstep!
Valencia Taxi Companies
Valencia Tele Taxi
Tlf: 963 57 13 13


Radio Taxi
Tlf: 963 70 33 33


Auto-Taxis
Tlf: 963 95 95 60


Cooperativa Valencia Taxis
Tlf: 963 74 02 02


Onda Taxi
Tlf: 963 47 52 52


Taxi Inglés
Tlf: 629 05 58 10