Hiking in Valencia, Spain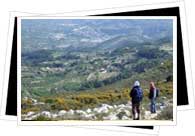 The region of Valencia is a long strip of land running alongside the Mediterranean coastline. Largely unknown, however, is the sheer diversity of the landscape, which ranges from sandy beaches to endless palm groves, fertile farmlands and dramatic mountain ranges. Most visitors to the Valencia region, however, spend their days lounging on its beaches and ambling about its seaside towns- and for good reason! Nevertheless, the downside to staying within walking distance of the beaches is passing up the opportunity to discover the treasures - both natural and man-made - awaiting you further inland.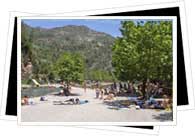 Hiking and trekking around the Valencia region is extremely rewarding and endlessly surprising. With most of the major hiking zones found in protected natural parks, nature-lovers will find themselves wide-eyed with awe gazing upon craggy mountain peaks, plunging canyons, dense forests, volcanic rock formations, winding rivers and graceful waterfalls- not to mention the local flora and fauna! The extensive hiking trails and footpaths - of various lengths and levels of expertise - throughout Valencia will also lead you to man-made marvels; you'll happen upon villages untouched by time, antiquated cave paintings, abandoned monasteries and medieval castles perched upon mountain tops as they have been for centuries.
Trekking or hiking around Valencia will also provide you with some of the most incredible views of the region, views that most Valencia visitors don't even know about! The veritable rainbow of colors will have you blinking your eyes in wonder- the crystalline blue Mediterranean dotted with sailboats, the dazzling green of La Huerta's farmlands, the ochre of the mountain peaks, the dark sage of the pine trees, rolling hills and dipping valleys speckled with brilliant wild flowers and a castle or two... and all of it bathed in the golden light of the Mediterranean sun.
For a more relaxed excursion out and about in Valencia's great outdoors, check out our page on trekking!
Valencia Hiking Zones
-Muela de Cortes and the Caroig Massif
-The Benicadell and Agullent Sierras
-The Corbera and les Agulles Sierras
-The La Safor and L'Almirall Sierras
-The Montduver Massif and the Buixcarró Sierra
-The Reatillo River and the Rejo Sierra
Valencia Hiking Information
For more Valencia hiking information, check out www.valenciaterraimar.org, a website run by the Valencia region's government with detailed information, hiking routes and elaborate maps.