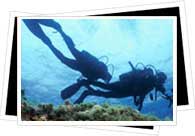 With heavenly weather and endless kilometers of warm Mediterranean waters lapping up upon its shores, Valencia simply begs that its visitors make a splash- literally! Valencia and its surrounding beach towns offer endless ways to enjoy the sea, both above and below the waves.
Explore the diverse underwater flora and fauna that live in the clear waters with a scuba-diving adventure, take a catamaran sailboat ride and enjoy the sunset, paddle around in a canoe or try something more adrenalin-pumping like kite or wind-surfing! Find out what to do, who to contact and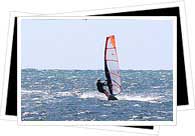 where to go below...
Scuba-Diving:
Centro de Buceo Bentos
c/ Pavía, 31
Valencia
Tlf: 963 56 45 05



Mare Nostrum
c/ José Benlliure, 60
Valencia
Tlf: 963 67 91 46



Delfín Cullera
Avda. Guardia Civil, 11
Cullera (Valencia)
Tlf: 961 72 16 34

Wind-Surfing:
Gandía Surf
Playa de Gandía
Gandía (Valencia)
Tlf: 962 96 09 47



Seasurf Patrol
c/ Ben Leyan, 5, 2, 3
Cullera (Valencia)
Tlf: 961 72 50 93

Kite-Surfing:
Kite Surf Oliva
Playa de Rabdells
Oliva (Valencia)
Tlf: 637 10 21 00



Oliva Surf
c/ Roger de Lauria, 55
Oliva Playa (Valencia)
Tlf: 962 85 54 98
Canoeing:
Club de Piragüismo Cullera
Avda. Guardia Civil, s/n
Cullera (Valencia)
Tlf: 635 10 74 30

Sailing:
Club Cullera Garbí
Playa de Cap Blanc
Cullera (Valencia)
Tlf: 620 40 04 51



Escola Nautica Llevant Blau
Avda. Constitución, 146
Valencia
Tlf: 963 66 40 03



Escuela de Vela Alboraya
Dársena Port Saplaya
Alboraya (Valencia)
Tlf: 961 68 13 84



Escuela Municipal de Vela Adaptada
c/ Monestir de Poblet, 30 & 32
Valencia
Tlf: 963 46 57 26