Trekking in Valencia, Spain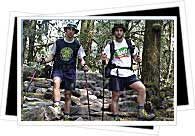 As hiking's more laid-back companion, trekking is a fun yet leisurely way to get into the great outdoors, take deep breaths of fresh air and explore the diverse Valencian landscape. Trekking doesn't require any level of expertise- as long as you've got a pair of willing feet, you're good to go - and can last anywhere from a sunny afternoon to a week of camping along the way.
There are tons of trekking routes throughout the Valencia region, all of which will lead you through fascinating landscapes, give you postcard-worthy vistas of the region and introduce you to tiny villages undisturbed by the passage of time. One of the best trekking possibilities in the Valencia region is the called the Vía Augusta- read on for more info!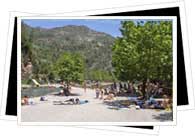 Trekking the Vía Augusta
One of the Valencia region's most interesting, and certainly the most historical, trekking options is the Vía Augusta. The Vía Augusta was part of a giant network of roads throughout Europe - Spain, Portugal, France, Greece, Italy - instituted during the epoch of the Roman Empire under the emperor Augustus (27 BC - 14 AD). This Roman route, which linked all of the major Roman outposts in Spain, was the principal artery of the Spanish network of Roman roads that led from the Pyrenees mountains more or less along the coast all the way to Cádiz, an impressive distance of 1500 kilometers (932 miles) away.
Almost a third of the Vía Augusta runs through the Valencia region, where it essentially served as a backbone to the region's early development. You can walk along the original dirt and stone route and see vestiges of mansions, bridges, monumental arches... not to mention a host of man-made marvels dating to post-Roman epochs. Get away from the urban bustle of Valencia, discover stunning views of unspoiled landscape, and explore little-known towns and villages that date back thousands of years on this route of historical, cultural and even religious interest.
Valencia Trekking Information
Website www.viadomitia.org (site in Greek, English, Spanish, Italian, French and Portuguese) for in-depth information - history, routes, maps, etc. - about the extensive network of Roman roads throughout Europe, including the Vía Augusta.



Website www.valenciaterraimar.org (site in Spanish, Valenciano and English), a great resource run by the Valencia region's government with tons of detailed hiking and trekking information.